Giff's Birding Pages
Email - derek@derekgifford.co.uk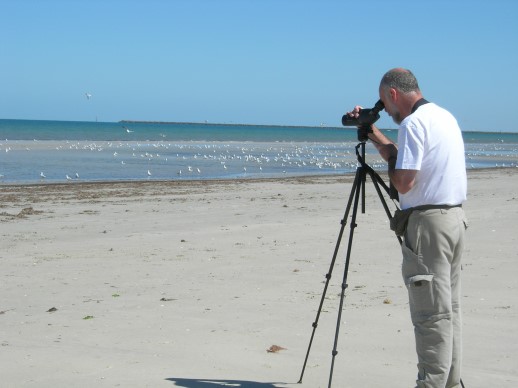 Birding in Australia
My Birding Activities - How it all started - and beyond
My interest in the natural environment started when my family moved out to Castle Bromwich in the mid 50s which, at that time, was on the outskirts of Birmingham and surrounded by Warwickshire countryside. I spent many happy days wandering over the fields watching mostly common birds. One of my abiding memories is the sound of singing Skylarks over a field near our house which accompanied my playing in the garden all day-long. The field was eventually built on to provide a new primary school and, sadly, the Skylark went with it.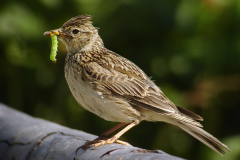 The Skylark
(Photo by Daniel Pettersson)
From those first experiences I developed a love of the countryside and wild places as well as a basic grounding through primary school outings in what was then called 'nature study'.
It wasn't until I joined the Ordnance Survey and spent much of my time in the countryside revising rural large scale plans that I began to take even more notice of the environment although it was a mainly passive interest. However, my knowledge of common bird species increased as well as some accrued wisdom on general wildlife.
Then I changed career and moved to Lancashire. My first teaching post was in Skelmersdale new town. Not an inspiring wildlife place at first thought but in fact I lived near a clough (narrow wooded valley) that led up to the local country park. My transition to birding started with the purchase of a cheap pair of binoculars from Dixon's. Cheap they might have been but they opened up a whole new world to me because now I could see the birds much more easily and in greater detail. I was hooked!
I soon upgraded to a pair of Russian made 'bins' and finally, when I realised that this was developing into a serious hobby, I bought a pair of Zeiss 8x40 Dialyt binoculars that I still have as my 'back up' pair to this day. Well, they are guaranteed for life after all!
In the late 70s and early 80s I developed my identification and observation skills either alone or with a few birding friends (our Galloway weekends in the February half-terms were legendary) and also with a local group of the Lancashire Wildlife Trust.
My next revelation was when I bought my first telescope in the mid 80s and all those little waders that I couldn't identify out on the sands and marshes of Morecambe Bay suddenly became lifers.
When I moved to Mawdesley, in Lancashire, I began to work a local 'patch' for the first time although I didn't send any of my records to the County recorder. When I moved to my current address in Roby Mill I contacted Maurice Jones, the county recorder at that time. He was delighted to receive records from an otherwise under-recorded area. Let this be a lesson to anyone who thinks their area is of no interest to others. I have sent in my Lancashire records annually ever since.
All my birding activities had so far taken place in Britain and Europe but in 1995 I visited New Zealand and Australia and my world birding exploits began. The birding in the Antipodes took me back to 'basics' with whole new families of birds to identify let alone individual species. The experience helped me tremendously later on when I started lecturing in ornithology with special reference to identification skills.
Since then I've been back to Australia four more times and developed a reasonable list of species numbering c350.
In between those times I've been to the Seychelles on an organised birding trip where we saw all the endemic species, to Canada (initially to see the superb Canadian folk group Tanglefoot) where I had an incredible morning's birding in a Toronto park watching migrant warblers and to Cuba where a day's guided birding with a local birder increased the world list by a good few endemic species.
I also had a short trip to Chicago in September 2004 and spent a pleasurable morning with some local birders looking at a number of the same warblers I'd seen in Canada but now in their autumn plumages.
A trip of a lifetime to Antarctica organised by Wildwings in January 2005 provided a small tally of species but what quality! My first ever wild Penguins, lots of new Albatrosses and a fabulous Snow Petrel. We also saw lots of whales and the most stunning scenery.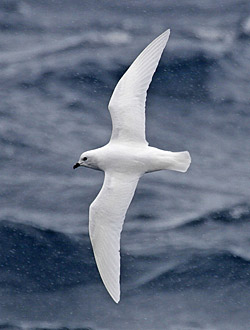 The Snow Petrel and the Azure Winged Magpie
In 2006, I visited my 'last' continent - Africa. As expected, my life list took an enormous boost with so many new species and some excellent guided birding with Tropical Birding in the Karoo area. Also in 2006, I visited Hong Kong and China where I didn't get a great deal of time to bird but managed to get quite a few new species onto the list including some stunning Azure-winged Magpies.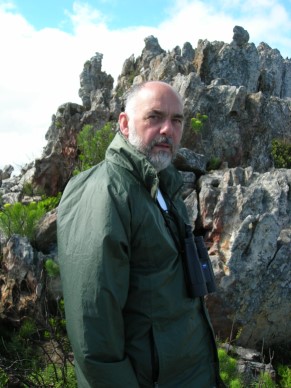 Looking for Cape Rockhopper in South Africa - 2006
In 2007 I went to Finland and Russia on an organised trip with Sunbird. The timing wasn't good because in this year the hoped for owls hadn't bred in Finland and we hit the midge peak! The birding in Russia was more productive with a number of 'difficult' lifers found by our excellent guides.
Christmas and New Year 2008/9 was spent in Cuba again where I managed to catch up on a few species I'd missed in 2003 most notably the superb Cuban Trogon.
In October 2009 I went to Panama and stayed at the fantastic Canopy Tower and Canopy Lodge where, with the help of our knowledgeable guides, I recorded over 270 species in less than a fortnight!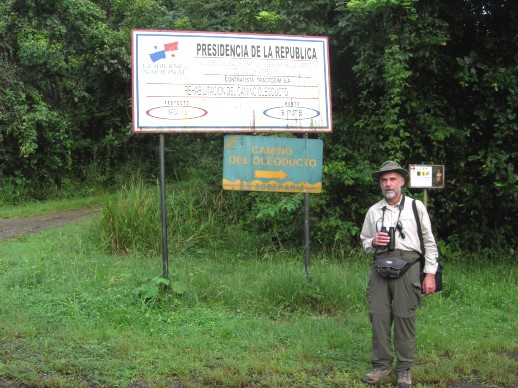 A photo from my trip to Panama
My trips to Australia involved stop overs at Singapore where, of course, I have also done a lot of birding with this year (2010) being very productive because I hired a car and got to some previously unvisited areas on the island.
At the beginning of 2010 my world life list stands at over 1,500 species.
When I took early retirement from teaching I was given the opportunity to lead a week's bird tour in May in the Cairngorm area of Scotland by some friends who own a B&B near Aviemore. We saw over 100 species in the week including such specialities as Red throated Diver, Slavonian Grebe, King Eider, Golden Eagle, Red Kite, Hen Harrier, Osprey, Ptarmigan, Hooded Crow, Crested Tit, Ring Ouzel and Scottish Crossbill.
The only local species we dipped on was Capercaillie! Obviously, my local knowledge and previous experience of the area helped and my clients were sent home very happy and with numerous lifers on their lists.
Later on I guided small groups from the Midlands round my own local area in the North-west for day trips. Notable among the species I found were Bittern, Short & Long -eared Owls and our local regular over-wintering species such as Whooper Swan and Pink-footed Geese. We also looked at a lot of over-wintering waders. For most of the groups Bittern and the two owls were lifers.
I would have liked to developed this side of my activities further but other things took over like lecturing in ornithology (see other section) and a lot more singing work.
Now I've retired from lecturing I'm doing more local guiding in the North-west most notably for Fir Tree Farm in King's Moss, St. Helens the details of which can be found in the Bird Watches section on this page.
So if you are a budding birder and live in or want to visit the North-west for some guided birding then get in touch. My details are on the web site.
I began lecturing in ornithology at Myerscough College near Preston in the autumn of 2001 at the bequest of a friend who was a lecturer and folkie.
The course was mainly outdoor work with the main purpose being to improve the bird identification skills of the students as well as giving background on bird conservation issues. When the college decided to end the ornithology module for their foundation degree in conservation and ecology I finally retired from teaching.... I think!
The research for this was inspired by a request to the general public from Mark Cocker who was editing Birds Britannica and asking for folk lore on birds. Obviously my first thought was birds in folk song.
As a result I acquired a a vast amount of material through the research I'd carried out which has been developed into three shows which combine my two primary interests - folk music and birding. In the shows I play various bird songs and calls which the audience is invited to identify. Then I perform the song or songs in which the bird is featured. Sometimes there is more than one bird featured in a song or there is more than one song about the same bird.
Following the initial success of the original show the two follow up shows are called 'More Birds in Folk Song' and 'Even More Birds in Folk Song'. These have had several outings too.
Finally, due to the interest from many folk in the research findings I have accrued, it has led to the possibility of a completely separate book being published under the title 'Birds in Folk Song'. This is being written at the present time. Details of publication will be posted here as soon as it nears completion.
Click HERE to view details of my "Birds in Folksong" CD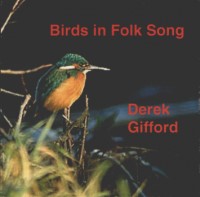 (Please telephone the number to reserve a place on the watches)
May 2016

(Dates to be confirmed)

Dawn Chorus Walk, Fir Tree Farm, Kings Moss, Rainford
01744 894959